Coil Springs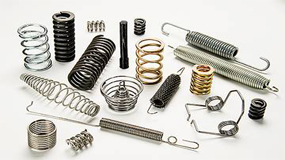 Coil springs are important mechanical parts that help to absorb shock, maintain tension, or transfer kinetic energy to different parts of a machine. This type of spring can be came in compression spring, extension spring and torsion spring. A tension or extension spring is designed to keep a component from stretching too far. Compression springs absorb energy and make sure that mechanical components don't get damaged. The torsion springs help limit how far a person can twist apart. They can be found in various tools and appliances, ranging from beds, mattresses, keyboards, garage doors, to suspension system.
As coil springs come in various types and require strong manufacturing quality in order get a long service life, it is very important to have an excellent and professional manufacturer behind their design. Kathysia Industrial has professional experience with many different sizes and types of coil springs manufacture and can ensure that your springs are durable enough to last through rigorous use over long periods of time. If you are having difficulty to find coil springs in the size and special design that you need, please try us for customized springs design project, you will never have to worry about where to find the perfect coil springs again.
Please call us today at 0086-371-8655-6906 or contact us for a quote via our website. We are happy to help you make sure that you get the coil spring you need. If you have any questions, feel free to contact us for an immediate solution.
Request a Quotation & Support
Please fillout the form below, we will response your request in 24 hours.