Garter Springs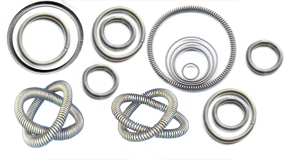 Garter Springs are helical coil springs whose ends are connected together to form a circular shape to provide a strong Radial Force. The springs are available in both extension and compression styles. The extension garter springs can fit around a cylindrical groove on an outside surface and provide the inward radial force while the compression garter springs fit within a groove on an inside surface and apply the outward radial force.
Garter springs are required for applications handling either low-viscosity fluids, shafts rotating at high RPM or high shaft eccentricity. Most of these springs are used in oil seals, shaft seals, belt-driven motors, and electrical connectors, etc. They can easily prevent contamination from water, dust, dirt, lubrication, and chemicals. They can be supplied pre-assembled into loops, or in lengths – this is particularly useful for standard weights or diameters, as it allows you to cut and assemble your garter springs as needed.
Contact Kathysia Industrial today and let's get to work on your customized garter springs. Call us at 0086-371-8655-6906 or using the request form found on our website. Please provide your requirement of the springs and your contact information, we will contact you with in 24 hours.
Request a Quotation & Support
Please fillout the form below, we will response your request in 24 hours.