Make To Order Springs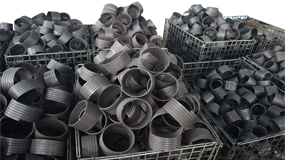 Some of other spring manufacturers are reluctant to take on projects for made to order springs. That's not the way we see things. Many people have found that our team is happy to design make to order springs for all types of applications. Whether you need something special for a garage door, an assembly line, or to include in the prototype for a device you hope to market, we have the ability and the resources to create springs that are just right.
The team at Kathysia industrial Corporation can help you by supplying springs for machinery and equipment that is no longer in production. We can provide standard sizes or our team can design a custom spring that is a perfect fit for your equipment.
There is no spring design that is too complicated for our team. Even if you have been turned away elsewhere, we can help.
No order is too large or too small for our team. We can make steel springs or springs using other materials which you prefer. Thanks to our background in designing springs for all types of uses, we can help you determine what sort of materials would provide the highest level of performance.
Call us today at 0086-371-5716-8918 and talk with our experts about your project, or leave a message via our website and tell us more about the custom spring that you need. We will respond and be happy to provide a free quote. Once you give us the chance to earn your business, there will be no need to ever contact another company about springs designed to your exact specification.
Request a Quotation & Support
Please fillout the form below, we will response your request in 24 hours.