Micro Springs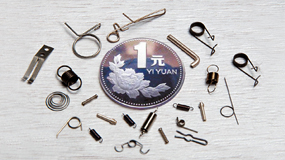 Micro springs are tiny compression or coil springs that are perfect for use in many different types of devices. Kathysia Industrial manufactures micro springs in a variety of shapes, lengths and materials. We maintain the strictest compliance to order specifications for all micro spring parts, producing precise components for even the most critical applications.
Many of the medical devices used in clinics, hospitals, and other health care facilities require the use of custom springs. This is especially true for miniature devices like medical cameras that are used for procedures like colonoscopies or as an alternative to exploratory surgery. Some hearing aid designs include this type of spring. Whatever the application, Katyhysia Industrial has the experience and the facilities to ensure that the springs you receive are always just right for the intended use.
We will custom manufacture any micro spring to fit your specific needs, maintaining manufacturing efficiency while meeting tolerance requirements. Offering competitive pricing, state-of-the-art equipment, including advanced quality control, and customer satisfaction for more than 60 years, we're ready to be part of your team.
To learn more about our products, please contact us today at 0086-371-8655-6906 or request a quote now via our website. Whatever your needs – We will Do It.
Request a Quotation & Support
Please fillout the form below, we will response your request in 24 hours.