Stampings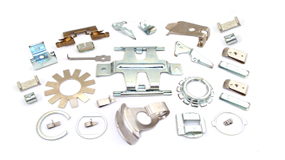 Kathysia industrial uses advanced manufacturing capabilities and craftsmanship to specialize in high carbon stampings. With the capability to perform prototype, short run, and any other stamping operations on hot and cold finished steel, aluminum, stainless steel, and various other metal types.
Kathysia industrial can accommodate every application from the close tolerance and exacting industry demands of industrial, agricultural, appliance, automotive, military, aerospace, medical, dental, and telecommunications to nearly any other application imaginable. Our expertise provides us the ability to produce these and lower-tech stamping solutions through a cost-effective process permitting Kathysia industrial to remain an industry leader in a highly competitive manufacturing environment. Working alongside our customers, Kathysia industrial produces stampings designed to meet the unique demands of specific applications.
Call us today to learn more about stampings. You can reach us by dialing 0086-371-8655-6906 or by using the request form found on our website. If you are seeking a quote for a custom designed stampings, please include the specifications in your request. Once we got the information, we will give you the quotation in 24 hours.
Request a Quotation & Support
Please fillout the form below, we will response your request in 24 hours.