Wire Forms Springs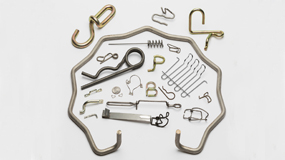 Like springs, wire forms are generally fashioned from round wire or strip material, then bent into shapes engineered to meet a specific task. Rather than employing a coiled body, wire forms rely on angles and lengths to provide resistance and support. Hooks and bends often act as attachment points for the device.
Mainly of the wire forms spings include the torque rods and frames. Torque Rods are found in office furniture, agricultural applications, automotive door systems and other applications where remote linkage needs are required. Round wire or strip material is used to form framework applications, based on customer requirements. A nearly limitless array of customizable attachment points are available to assist in the assembly process. Examples of our capabilities include, but are not limited to the following: the automotive seat back and cushion frames and frame components, airbag door frames, border wires, and headrest frames.
With over 60 years experence in the business, we are able to make any type of wire forms springs that you need, our engineering and manufacturing staff will ensure the best selection of design, including material and processes to match customer needs. And we make them with only the best quality materials and using state-of-the-art equipment.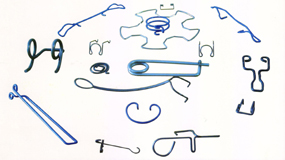 At Kathysia industrial, we maintain an extensive selection of wire forms that are ready to order for any application, but we also create specialized wire forms. We can work with you to create custom forms that are tailored to your specific needs. Our team can even help you design the forms based on your description of what you need. We will thoroughly discuss your project to ensure that we understand exactly what you need in the wire form then we will create it to those exact specifications.
Call us today at 0086-371-8655-6906 and learn why we are one of the top springs suppliers in the world. We are ready to show you the difference that our experience makes in the quality of our product and the high level of our service.
Request a Quotation & Support
Please fillout the form below, we will response your request in 24 hours.