Kathysia Industrial is well known for high quality dies from very simple shapes to the most complex. We operate 47 punches presses, ranging in size from 15 to 500 tons, also a deburring department consisting of both tumble and vibratory machines.
Our experienced staff understands the characteristics of each type of material allowing us to assist customers in finding the most economical material for their project. We are large enough of a stamping job shop to offer full-service capabilities, yet small enough to work with you day to day on a personal basis. One of our goals is to respond to the request for quotes within 24 hours.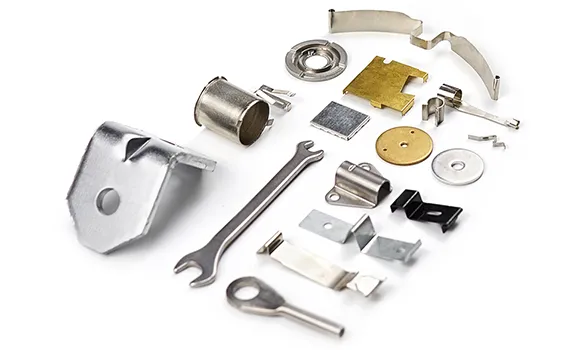 We'll gladly provide you with a list of satisfied Pacific Metal Stampings customers upon request.
Beyond the stamping, punching, forming and deburring operations we also will provide secondary certified processes such as Heat Treating, Penetrate Inspect, Painting, and Plating. We take pride in our on time delivery of high quality parts. Simply put, when you choose Pacific Metal Stampings, you do so with complete confidence.
During the metal stamping process, blanks or coils of sheet metal feed through one or more die and toolsets. These dies and toolsets form and cut the sheet metal into its desired shape.

At Kathysia, we perform a variety of custom metal stamping operations, including: Blanking, Bending, Punching, Coining, Drawing, Embossing, Piercing, Curling.
Our custom metal stamping methods are fast, reliable, and multi-functional. We deliver parts that provide exceptional performance to our customers. In addition, we have the ability to add special features to our stamped parts such as: Threaded, Countersunk, Numbered, Embossed elements such as logos, Assembled, Staking, Joining.
All our dies and tools are engineered and built in-house, using our state-of-the-art EDM and CNC machines. Creating our own die and tool sets allows us to maintain tight tolerances of up to 0.0005″ throughout the entire metal stamping process.
Custom Metal Stamping Capabilities
As leaders in metal stamping, our customers rely on our expert design and development services. We create a range of metal components in all sizes, from simple to intricate.
We provide service and support to our customers throughout the entire process, from prototype development through high-volume production. We have the capability to process orders of up to 300 million parts. Our custom precision metal stamping produces a variety of components, such as: Electronic Terminals, Sensor components, Yokes, Thrust washers, Heat sinks, Printer cartridge blades, Medical components, Inserts, Fuse clips, Brackets, Contacts, Covers, Latches, Furniture parts.
Industries Served
Since 1957, Kathysia has served a variety of industries, including: Aerospace, Appliances, Automotive, Electrical Distribution, Communications, Construction, Renewable Energy, General Manufacturing, Medical/Medical Devices, Military/Defense, General Manufacturing.
Given our capabilities, we can serve the custom metal stamping needs of a broad range of industries and can projects of all sizes.