Kathysia Industrial is a leading manufacturer of parabolic and conventional leaf springs. The wide product range is suitable for all sorts of vehicles, from small trailer springs to large, heavy-duty and off-road vehicle springs, the lightest utility vehicles to the heaviest trucks, built for long-haul or off-road missions.
Our custom manufactured leaf springs are designed to meet the most precise specifications or tolerances. We take special pride in our high quality standards and service reputation. For more than 60 years we have been supplying our customers with the finest leaf springs.
After the rolling and forging operations, the spring leaves are quenched and tempered to achieve the required mechanical properties. They are then shot-peened to increase the fatigue life. Magnetic particle inspection tests are carried out when required.
Using a specific process, Kathysia can manufacture high stress springs. The high performances obtained enable a weight reduction and, as a result, allow the vehicle load to be increased.
Leaves for multi-leaf springs are prepared by cutting and stamping whilst parabolic leaves are hot rolled in a purpose-made rolling machine. The ends of the main leaf are heated and the eyes are then hot rolled. The leaves are heated and individually bent to the correct arc radius and, whilst still clamped between the bending tool, each leaf is quenched in oil to receive high strength and the correct shape. Parabolic leaves also have an arc radius but are however normally straight in the thicker central section. The leaves are finally tempered for high material toughness and strength.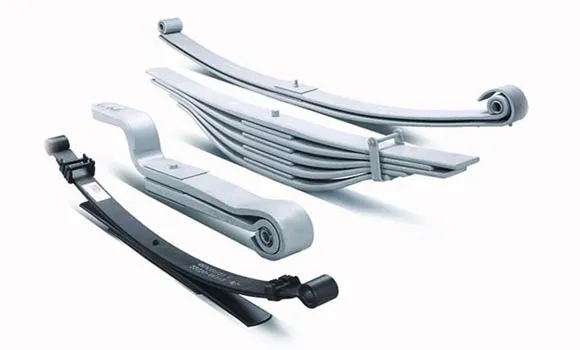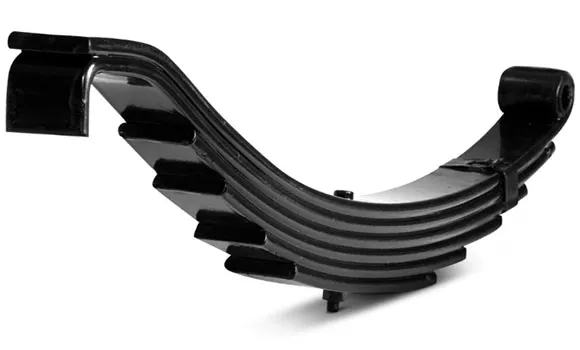 After cooling, the shot peening process is necessary for all parabolic leaves. For multi-leaf springs however, it is normally only the two safety-critical leaves that require shot peening. The bushes are pressed into the eyes and the stack of leaves assembled. Positive stresses are then introduced into the spring by a pre-stressing process.
The multi leaf surfaces are protected against corrosion by painting of the outer surfaces and by lubrication between each leaf. Parabolic leaves are individually painted on all surfaces.